Healing as the mission of Emerging Om is nowhere exemplified better than through our charitable work. Whether during travels to India or sessions conducted in the Los Angeles County jail system, the opportunity, indeed the mandate, to give of ourselves to those in need is always apparent. When you participate in emerging Om sessions or purchase from our Gift Shop, you are contributing directly to those less fortunate than ourselves. Emerging Om supports charities designated by our hosts and sponsors wherever we offer our services.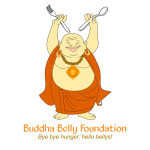 Buddha Belly Foundation
What if you could only have one meal a day?
By making a 6 month commitment become a member of emerging Om's "Buddha Belly Foundation." Please help me feed 203 hungry students daily at Mother Miracle School in Rishikesh India! After the 6 month period (October 1st 2015- April 1st 2016) you can choose to discontinue your donation at any time. For most of these kids this nutritious, warm school lunch is the only meal they get throughout the day! I do not need to write pages and pages about the school. You may learn about this wonderful facility by going to www.mothermiracle.org Reply to this e-mail and sign up…One time donations are also welcome.
Please make your donation check payable to: Mother Miracle
and mail it to: Emerging Om Holistic Center
250 El Camino Real, #200
Tustin, CA 92780
With Love… Kathy
We all can make a splash in the ocean of kindness…
Fundraising

The essence of the Emerging Om Holistic Center…all that we experience…all that we share…all that we receive…is founded on and balanced by our heart-felt giving to those in need or less fortunate than ourselves.
Opportunities for giving are before us.  Please, open your heart, reach within, and give what you can: